I went for a massage at Chillhouse. It was chill.
I first read about Chillhouse in a travel article on goop — yes, I'm pretty goopy most days, or rather, try to be. I thought it would be an outrageously priced, only-worth-it-for-my-birthday (if that) kind of place, but when I clicked over to their site, I was pleasantly surprised to see it was more than reasonable for the quality of service offered.
And when it came to the morning I booked it, if it was under $100, which it was, I was going to make it work. Sometimes, when the world gets a little too dark for me, I think an investment in myself is more necessary than anything else. Sometimes, I make it to the end of the month and kick myself for not sticking to my budget. Balance is a b****.
Last week, leading up to the weekend, I was an overwhelmed and undervalued human – which, in my opinion, is one of the worst set of feelings to tack on to general anxiety. I couldn't seem to shake my overwhelm, no matter how many times I repeated, "All you can do is all you can do. And all you can do is enough." So I booked myself a 10 AM Chill Pill with Holly, and let me just say, this place is worth every penny.
Recently, I found out they have a monthly massage subscription for the price of about three cocktails, so needless to say, subscriptions will continue to be the best death of me.
Fast forward to the Big Day. I hopped on the Q down to Delancey and walked over to Essex. The street art (see below) along the walk is magnificent — even the truck fits in. The whole block is like this; bright colors, explosions of personality on an otherwise dull street.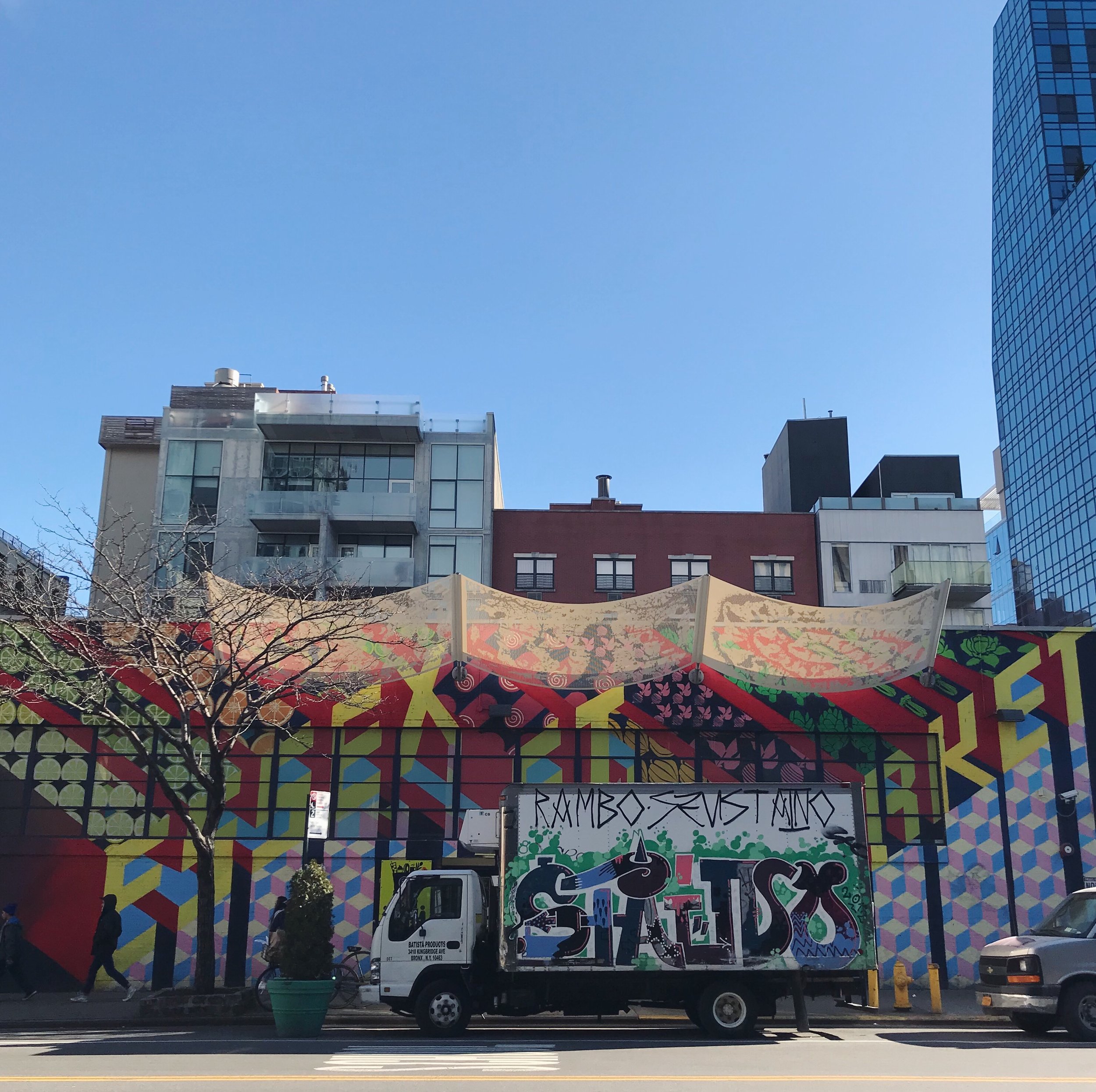 I've always loved street art.
Just look at this! The whole street is breathtaking. If anyone knows the artist(s), I would love to give due credit!
I walked in and was instantly charmed. I had woken up early to start running again, trying to get back into that self-care intention like I mentioned last week. I was also excited, still high on an endorphin rush, and a little nervous to unwind in the company of strangers.
When I entered the space, it was just as chill as I know it intended and just as much what I needed. The café was the only part of the shop open when I first arrived, so I checked in and sat down to absorb it all. From the perfectly bright and airy shelves with pastel colored pottery (see the top, first photo), to the cactus next to the counter (see below), everything was curated simply and intentionally, much like I try to make my own living space. The café is the first designated space; then, through a wall of glass windows and doors, there is a series of manicurists' tables; and then, beyond, a gorgeous seating area for the masseuse to greet you before the back area of private massage rooms.
I liked the café so much I stayed all day.
I started the morning sitting with this view, taking in all the greenery, the way the tables gleamed in the sunlight, and all the intricate leather detailing the shop owners added to make the space earthy and comfortable. When my massage was done, I sat at one of these tables and finished the book I was reading.
If ever there was a cactus I wanted to steal, this was it. Somehow, this gorgeous plant was flourishing in the midwinter chill, and it was stunning.
The massage I asked for, the Chill Pill, is supposed to help anxiety subside and bring a deep state of relaxed healing. The site says, "stress can put your stomach in knots and lead to a general sense of unease and a recurrent state of illness. Find your zen with a massage tailored to calm the body and heal the mind." I think it's safe to say we could all use a little chill pill.
The last time I had a massage, I couldn't relax a bit, and I was mortified. But Holly was lovely and really set the tone for a lovely morning. I told her about the 20 pound bag I lug around on my left shoulder every day, and shrugging my shoulders, admittedly holding back tears, I told her my stress levels seemed unbeatable lately. Her kindness, and also her professional, emotional distance, made the experience all the better. She led me to the massage room (see below) where I undressed and lay down on the table. Aside from one moment on my right arm where she had to tap on it repeatedly for me to loosen up, the 50-minute massage was the best kind of meditation. Every time I found myself tense, I slowly relaxed my muscles until I was drifting and at ease once again. I took a deep, full breath for the first time in months. I unwound and felt free.
This was the private room for massages. The minimalist detailing was wonderful. It certainly felt remote and like my own little home. The light fixture cast this dreamy glow that made me want to curl up and nap. Also, can I get that cart in my life?
When the massage was done, I put my clothes back on, snapped a few pictures because social media, and left the space to meet Holly who was holding out a small glass of ice water. She told me to stretch a little more – if only she knew I was a yoga instructor turned corporate – and asked me to return if I had enjoyed myself. Of course I did. Then she let me go about my day in dreamy bliss. It hit me that I didn't want to leave Chillhouse. Not at all. So I went back to the café, ordered a cup of coffee, and sat there for the rest of the morning reading The Underwriting by Michelle Miller. More on that next week.

Overall, I survived the terrible, horrible, no good, very bad week leading up to that massage. It could have been my intention to practice what I preach when it comes to self-care, or perhaps it was the kind face Holly had when she said hello, but I survived. My stressors are relative, and I by no means call any of the hardships I face the most devastating or terrible in the world, but they did suck, still do, and I did all that I could to feel like I was enough.
Am enough.
It's a work in progress.
+ What are you doing for self-care this week?